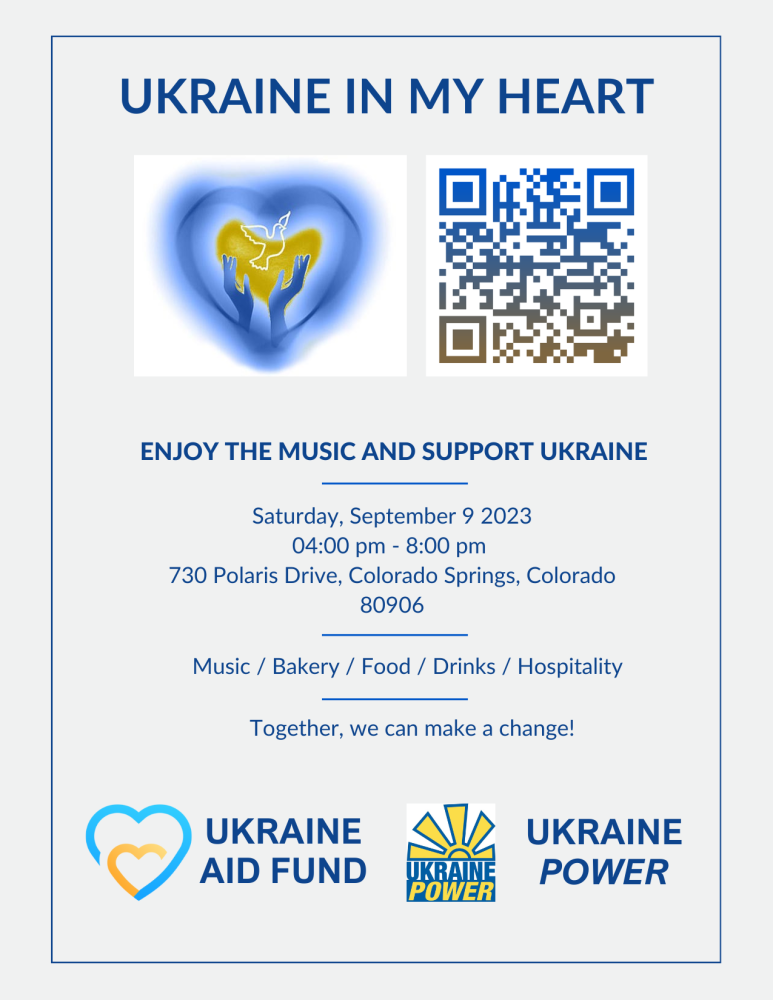 Ukraine In My Heart
Ukrainian music festival in Colorado Springs
Date and Time:
04:00 PM Saturday 9th of September 2023
Ukraine Power and Ukraine Aid Fund would like to cordially invite you and your friends to attend Ukrainian music festival, featuring an unforgettable evening of live music, food, wine and art. Suggested minimum donation is $35 per person if purchased online and $45 if in person.
When: September 9 2023. from 4:00 pm to 8:00 pm. Join any time. Music program will start at 4:30 pm
Where: 730 Polaris Drive, Colorado Springs, Colorado 80906. See on the map. Please park alone Polaris Drive road.
Dress code: Casual / Smart Casual.
This event is dedicated to support Ukraine and Ukrainians who have suffered so much grief today. Every dollar of yours will be your contribution to the Victory. The song is like a medicine, it heals people's souls and gives confidence that goodness and mercy will definitely defeat darkness! Please come and join us for the evening full of magical music, famous Ukrainian songs, and talented artists. Open your Heart for Ukraine!
Event tickets