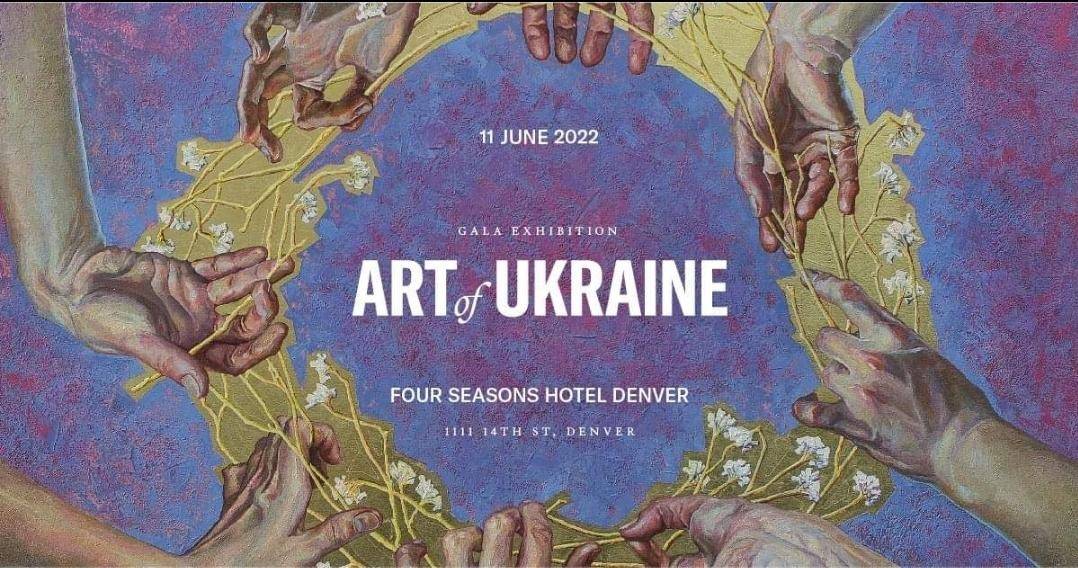 Art of Ukraine
Ukrainian Art fundraising event
Date and Time:
04:00 PM Saturday 11th of June 2022
Event has Concluded
FOUR SEASONS HOTEL in DENVER will host Art of Ukraine Gala Exhibition on June 11th at 4-9pm. Most of the Art presented at the event has been rescued from heavily bombed city Kharkiv, that's the second largest city in Ukraine, it's located in the Eastern part of Ukraine and is considered its cultural capital. Paintings from artists located in other regions of Ukraine will also be presented at the Art Gala. ... See more
FOUR SEASONS HOTEL in DENVER will host Art of Ukraine Gala Exhibition on June 11th at 4-9pm. Most of the Art presented at the event has been rescued from heavily bombed city Kharkiv, that's the second largest city in Ukraine, it's located in the Eastern part of Ukraine and is considered its cultural capital. Paintings from artists located in other regions of Ukraine will also be presented at the Art Gala. Maria Manuilenko, who is one of the organizers of the event, along with many volunteers have been able to rescue these incredible paintings from Ukraine and personally bring them to Denver for the Art Gala. The main goal of this event is to raise funds to support many needs in Ukraine and Ukrainian artists during Russia's military invasion.
With the beginning of Russia's invasion in Ukraine many of the artists were forced to leave their homes to save their lives. In the horror of the enemy attacks, and the necessity to leave as fast as possible most of the collections of paintings were left behind. Few of the paintings were saved, and some had to be cut off from the subframes, rolled into tubes and evacuated under heavy shelling. Free, independent, creative people have left their homes, their past, their lives' achievements due to the war and have become refugees. Many of the artists we've interviewed described the experience as if they were a part of a movie, they could not believe that this was happening to them, it seemed like a nightmare that just wouldn't end.
There is not a single person in Ukraine who has not been affected by this horrible war. All of the artists and each person in Ukraine have their story to tell and the one we wanted to share with you is of Konstantin Lyzohub, who is an incredible artist. His painting "The Wreath" has become the symbol of our Art Gala. When the Russian invasion started, Konstantin has decided to put down his brushes and pick up arms to defend Ukraine and his once beautiful hometown Kharkiv.
Our artists, along with all Ukrainians, when unexpectedly faced with such challenges that seemed unfathomable in the 21st century is continuously demonstrating the unbent spirit and strong desire to remain a free and independent nation.
Kharkiv has one of the strongest design schools and avant-garde tradition centers in Ukraine. Kharkiv State Academy of Design and Arts (KSADA) is one of the oldest art schools in the country. For most of the artists whose works will be presented at the exhibition, the Academy is their Alma Mater, where they received a very strong academic foundation, but being talented and incredibly creative people, they are moving on from traditional school to new methods of expression. This group of modern artists, close acquaintances and like-minded creatives have formed their own recognizable artistic following. They are no longer students but mature artists with their own artistic history and individuality, though you might see some common features in their similar attitude to the world perception which are expressed in broken modern lines, ornamentally, interest in bodily and spiritual beauty, and most importantly attention to human individuality and feelings. In their work, the trends of youthful searches "DeGraZh" and the unique original style of each author are organically intertwined, with their own visual method and artistic expression that they crave.
The work of modern young artists presents not only an highly advanced level of local Ukrainian art schools, but also represents Ukrainian art in the world, which is characterized their originality.
Organizers:
Ukraine Aid Fund
Art Curator of the exhibition and participant of the exhibition: Inna Pedan.
Art Manager and Art Curator: Maria Manuilenko
Exhibitors:
Anna Bondar is a Kyiv artist, a member of the Union of Young Artists of Ukraine. Participant of many Ukrainian and US exhibits. Anna is a contemporary artist working in mixed media. The artist considers her works of art as a result of personal feelings, emotional, spiritual, and aesthetic reflection. Each of her paintings appears as a concentrate of personal philosophy, the search for harmony, the meaning of life, and the beauty of nature. After finishing her degree in interior design from the Art Institute of Art Modeling and Design "Salvador Dali "(Kyiv, Ukraine) in 2014, she improved her skills under the mentorship of realist artist Vasyliy Borisenko. Horses and equestrian sport occupy a significant place in Anna's life. Up until russian invasion in Ukraine has started, Anna used to travel to the countryside for everyday training, which allowed her to observe these amazing creatures all year round and portray them as well as amazing landscapes in her works.
Bob Bassett is a Ukrainian artist and co-founder of an eponymous art studio which was based in Kharkiv, Ukraine and that had to be evacuated to Lviv after the russian invasion began in February of 2022. The artist works mainly with leather, metal, stone, wood, bone, ceramics and glass. Bob Basset has designed masks and other items for Metallica, Lady Gaga, Givenchy brand, stylists Panos Yiapanis and Riccardo Tisci. A range of Bob Basset masks were created for the films produced by Ridley Scott, Ridley Scott Associates (RSA Films). Bob Basset masks often appear in music videos of famous artists. He has been making masks for Sid Wilson of the musical group Slipknot. The studio has also worked with Korn, Avril Lavigne, Otep, Tantric, Zayn Malik, UK DJ Jungleboi, Dutch DJ R3hab, and Lithuanian band Beissoul & Einius; and also used to promote the American TV show The Last Ship. A mask from the Bob Basset Mashrabiya collection was used in a photoshoot by Hollywood actress Elizabeth Banks. In 2016, Bob Basset was included in the list of Nine Revolutionary Ukrainian designers. The studio's works have been highly acclaimed by steampunk style founder William Gibson, filmmaker and artist David Lynch, and post-cyberpunk and sci-fi author Cory Doctorow.
Victoria Kalaichi. has lived and created her paintings in Kharkiv, Ukraine until the Russian invasion started in February 2022. Victoria graduated from the Crimean Art College in Ukraine named after Samokish in 2006. In the same year, she entered the prestigious Kharkov State Academy of Arts and Design. She studied in the Portrait and Genre Workshop of People′s Artist of Ukraine, Professor Ganotsky, and under Honored Artist of Ukraine, Professor Chaus. Since 2008, Victoria has been a participant in numerous exhibitions and international Plein airs. Her paintings are in private collections in China, America, Holland, Sweden, Russia, Ukraine, etc. Since 2019 Victoria has been a member of Ukraine's Artists' Alliance. Her work is represented by Arcadia Gallery in New York.
Iryna Kalyuzhna is a Ukrainian artist who received her Art degree from Kharkiv Repin Art School, and later graduated from Kharkiv Academy of Art and Design. The style of her work has been inspired by the traditions of the Kharkiv school of easel painting. Iryna follows the path of experimentation and searches for new means of expression. Her arsenal includes the a la prima technique, the use of glazes, the decoupage technique, and a high degree of plastic literacy in the drawing. Iryna is an avid collector of vintage traditional Ukrainian costumes and in her Beauty Series creates paintings portraying beautiful Ukrainian women and children wearing vintage clothes from her collection of over 200 vintage pieces. Iryna is an award-winning artist well known in Ukraine and who has participated in many international art exhibits in China, Netherlands and United States.
Konstantin Lyzohub was born in Kharkiv, Ukraine where he created beautiful works of art until the Russian invasion started in February of 2022. Konstyantyn decided to join Ukrainian Armed forces and is currently defending his country and his city in Ukrainian Territorial Defense. Konstyantyn's painting where hands are knitting a wreath is the symbol of mutual support and unity of people: "Together we will restore our Ukraine" This painting also became the symbol of the Art of Ukraine Exhibition in Denver, USA in 2022. Konstyantyn received his first art education at the Kharkiv Art Lyceum, then in 2008 he graduated from the Department of Easel Painting of KSADA. His works were presented at exhibitions in Germany and Italy. Konstyantyn is a member of the Union of Artists.
Polina Kuznetsova is a Ukrainian artist, who has lived and worked in Kharkiv all her life. After the Russian invasion began in February 2022, she was evacuated to Tallinn, Estonia. Polina graduated from the Kharkiv Art School and the Kharkiv State Academy of Design and Arts, and is a participant of numerous Ukrainian and international exhibits. Her paintings are in private collections in Ukraine, USA, Estonia, China and the Philippines. The painting of Polina Kuznetsova is characterized by a distinct individual artistic language. Working mainly with the silhouette and planes, the artist avoids deep space and explicit volume. Polina gravitates toward a complex color scheme based on ocher and brown. She turns to the genre of portrait, landscape and still life, but in recent years he has shown an increasing interest in thematic and plot painting. In her works, a certain rigidity and tension of the artistic language prevails - strong contrasts of light and dark, expressive contour, sharp transmission of light and shade. Her work is also characterized by a passion for angularity of forms and lines, which is partly due to the young author's attention to the work of such famous masters as Gustav Klimt and Egon Schiele. The connection with the Art Nouveau style can also be traced in the special decorativeness inherent in the manner of Polina Kuznetsova. The artist is always in a creative search, she is not afraid to experiment, changing color preferences, themes and features of working with form. The diversity and modernity of her painting does not leave art connoisseurs indifferent.
Tata Kolesnik is a Ukrainian artist who was born in Kharkiv where she lived all her life until February of this year when she was forced to evacuate to Lviv in Western Ukraine. She received her art education at the workshop of Eugen Bikov "Bottega 1". In 2006 Tata became a member of the Professional Union of Artists of Ukraine. The artist combines modern elements with traditional Renaissance composition and color selection, searching for new meanings in eternal screenplays. Detailed decorative paintings get new inspiration in the author's dialogues with the world art heritage. The artist's main theme is a woman in different life episodes and moods. Paintings tell stories that involve a spectator to his own story, because "nothing is new under the Moon".
Inna Pedan.- artistic designer. At the Art Gala Exhibition in Denver, USA Inna Pedan's work is represented by art collages. These exquisite, designer creations combine decorative, symbolic components and philosophy of deconstruction of the world. Inna is a member of the Union of Designers of Ukraine, Participant of Ukrainian and international exhibits on subject design, participant of more than 40 group exhibitions, author of personal design projects. ".. when it all ends, we will plant sunflowers in all flower beds of Ukraine."
Artem Rogowoi - Ukrainian artist. After the russian invasion began in February of 2022 had to evacuate to Lviv in the Western part of Ukraine. Artem has graduated from the Kharkiv Academy of Design and Arts. Part of his education was focused on restoration of old paintings and religious icons, which in many ways has influenced his work as an artist. His knowledge of painting technology and ancient techniques is apparent in his detailed and intricate creations. Artem Rogowoi paintings often remind us of incredible works of the Art Nouveau era and its artists such as Alphonse Mucha. In decorative ornaments, golden flowers, luxurious fabrics, the images of women - all of these works are original creations of a modern artist who has his own unique and original style. Artem Rogowoi is a well known Ukrainian artist who has his art work currently exhibited at the Arcadia Fine Arts Gallery in New York.
Artem Tolstukhin - Ukrainian artist originally from Crimea, is a Master of Landscape. Artem graduated from the Samokish Art College, the Department of Book Graphics and later the KDADM majoring in Restoration. Artem is a member of the National Union of Artists of Ukraine and a Permanent participant of Ukrainian and international exhibitions, laureate of various art competitions. His works are hosted in the Kharkiv Art Museum and private collections in Ukraine and New York and Los Angeles in USA.
Denys Sarazhin ( born 1982 in Nikopol, Ukraine ) studied at the Kharkiv State Academy of Design and Arts in Kharkiv, Ukraine. The human figure is the focus of his paintings. The artist is interested in interpersonal relationships, identity issues and the search for oneself. These private and yet universal questions are conveyed to the beholder through the communicative potential of the human body as a motif and through the possibilities of painting. They are reflected in his oil paintings primarily in the expressive movements of the limbs of his figures. The hands are the most characteristic element of his work. With powerful depictions Sarazhin formulates different statements about human experiences and sentiments. The artist uses oil paints to visualize thoughts and emotions on the canvas, which can otherwise only be experienced purely mentally and are difficult to express verbally. See less